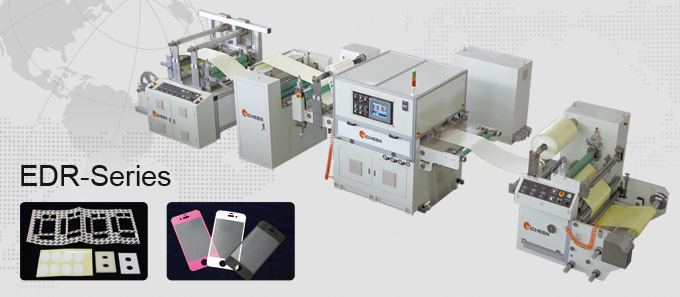 Max. cutting square is 1500x1500mm special for punching material used in large LCD panel. The machine cutting capability can be reached 80 times/per minute in continuously die cutting running, which the production capability is upgrade 2.5 times than the traditional hydraulic machine.

Full Servo drive type, high speed die cutting, Full die cutting and half die cutting in process.

PLC computer touch-panel screen control system – clear & easy in operation.

Equipped with high precision mold high fine adjustment control, Four-columns can be micro-adjusted independently by computer setting parameter, to save time and to raise the production rate.

Precision die cut position matching; save time & accurate in die cut mold replacement. Die mold less worn, Long lifetime in use. Also, Optional equipped with knife mold rotative mechanism, it makes the knife mold replaced convenient.

The knife mold board is available to be replaced in any size in large die cutting machine.

Equipped with specific transmission mechanism, while the knife mold reaching cutting BDC, it will lower down the cutting speed and make the cutting working staple. No burr or No press indentation occurred on finished product, Makes high yield rate of the production.

Equipped with safety shelf and safety sensor on each size of machine in order to avoid any dangers while operation.

Non-hydraulic design, no pollution, low vibration and low noise, to save more than 30% of energy loss comparing with traditional hydraulic machine, best for using in dustless room.

Optional mechanisms: Rewind stacking system, Unwind system (shelf system or shelfless system).

Valuable, full-featured equipment, to improve plant ROI.